Pickle Line
Pickle Line was shown as part of Fourth Wall Film Festival / Cardiff Contemporary from Midday to 3am, Thursday 23rd to Saturday 25th October 2014, at the main festival venue on Wood Street (Panopticon, 6–7 St. Davids House, Wood Street, Cardiff CF10 1ER ). The venue was open between 12 and 6pm, but was viewable through the window during the hours of darkness.
Originally commissioned by Fourth Wall . Pedwaredd Wal CIC in Cardiff for the Outcasting : Fourth Wall Festival 2012.
Following a protracted closure programme over a 40 year period, steelmaking in Ebbw Vale in the South Wales Valleys came to an end in July 2002. Two years later one of the most iconic steelworks structures, the Pickle Line, was demolished, an event recorded by scores of amateur and professional film makers on all sides of the valley, many of whom were ex-steelworkers. This new installation will bring a number of those films together, synchronised to the moment of demolition.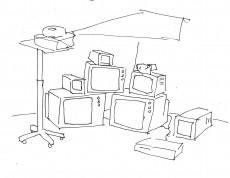 The films illuminate the UK's transition over the past half century from being makers of things, to consumers of things. Yet they also represent the end of the sense of uniformity and collective endeavour engendered by heavy industry and the newfound, perhaps hollow, power of the individual to record events from their own point of view.
Image (top) courtesy of Ebbw Vale Demolition Team.
Footage used with the kind permission of BBC Cymru Wales, James Sheppard, John Faulkner (Precision Demolition Company Ltd), Russell Retallick, Roy Nancarrow, Delwyn Evans, The Demolition Team at Ebbw Vale and the Ebbw Vale Works Archival Trust.
Thanks to Paul Emmanuel, Chris Brown and Anthony Shapland from Gallery 39 for technical support and to Zach Poff for adapting his Multiscreener software to Paul's specs! Thanks also to Aidan Taylor for help sourcing the cables.
Televisions contributed by Abergavenny Homemakers Community Recycling, Gallery 39, Kim and Steve at the Roath Park Pub, James Stafford and Deb and Gary Samuel.